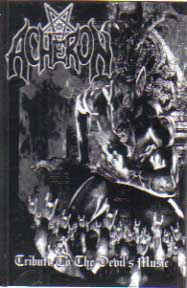 Acheron - Tribute to the Devil's Music Cassette
Death/Black Metal.
1. Black Sabbath (Black Sabbath cover)
2. Evil Dead (Death cover)
3. Dawn of Meggido (Celtic Frost cover)
4. Wrathchild (Iron Maiden cover)
5. Flag of Hate (Kreator cover)
6. (Don't Need) Religion (Motφrhead cover)
7. Room of Golden Air (Mercyful Fate cover)
8. War Machine (Kiss cover)
9. Raise the Dead (Bathory cover)
10. Devil's Child (Judas Priest cover)
11. Countess Bathory (Venom cover)
12. Ave Satanas (Re-recording of original Acheron track)!