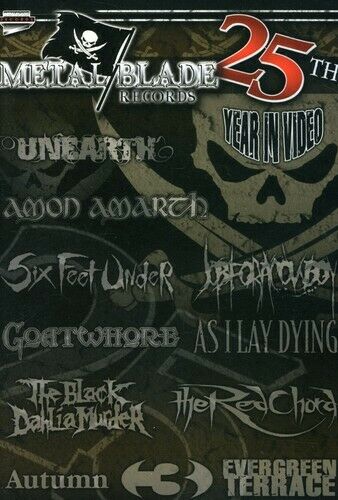 Metal Blade Records - 25th Anniversary DVD
1. Unearth "Sanctity Of Brothers"
2. Amon Amarth "Cry Of The Black Birds"
3. Six Feet Under "Ghosts Of The Undead"
4. Job For A Cowboy "Embedded"
5. Goatwhore "Forever Consumed Oblivion"
6. As I Lay Dying "Nothing Left"
7. The Black Dahlia Murder "What A Horrible Night To Have..."
8. The Red Chord "Dread Prevailed"
9. Evergreen Terrace "Chaney Can't Quite Riff Like Helmet's..."
10. Unearth "This Glorious Nightmare"
11. Six Feet Under "Doomsday"
12. 3 "All That Remains"
13. Autumn "Satellites"