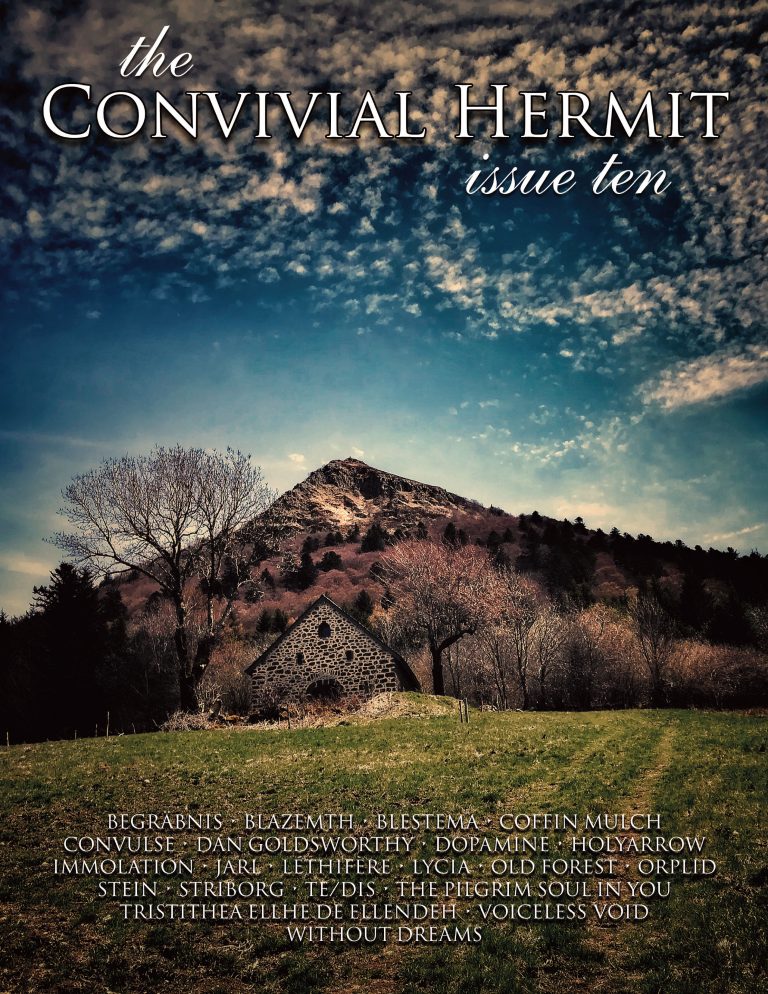 The Convival Hermit - Issue #10
Regular price $15.00 Sale
he latest issue of Convivial Hermit is 128 pages pro-printed featuring 21 exclusive interviews with
BEGRÄBNIS (Japan), BLAZEMTH (Spain), BLESTEMA (Colombia), COFFIN MULCH (Scotland), CONVULSE (Finland), DAN GOLDSWORTHY (Scotland), DOPAMINE (China), HOLYARROW (China), IMMOLATION (USA), JARL (Sweden), LÉTHIFÈRE (France), LYCIA (USA), OLD FOREST (England), ORPLID  (Germany), STEIN (Germany), STRIBORG (Australia), TE/DIS (Germany), THE PILGRIM SOUL IN YOU (China), TRISTITHEA ELLHE DE ELLENDEH (Hell), VOICELESS VOID (Russia) and WITHOUT DREAMS (Russia). 

There are 10 articles/specials including The Cave of Kelpius, a special on Edgar Allan Poe, In Support of Euthanasia, travel reports in Gettysburg and Lititz Pennsylvania, Metal Movie Reviews, Forest Trail Etiquette Part II, and more, 2 Exclusive comics - Men O' Nite & Swarzentruber "Amman: Shunning the Beast" and Suffering Succotash "Brad's Brutal Blunder" - and 24 pages of diverse zine, book and music reviews.
Each issue comes with an exclusive 10-track Pest Productions Compilation CD to top things off!