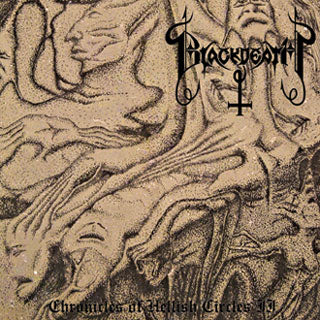 Blackdeath - Chronicles of Hellish Circles II CD
Black Metal. Features a cover of Laibach!
Tracks 1 to 5 taken from "Jesus wept" EP (2011).
Tracks 6 to 9 taken from "Satanas ∴ Retro ∴ Vade" EP (2014).

Track 6 (originally titled "Sun is setting in the North") is from the debut Draugwath's demo "Dwellers of the Cursed Forest" (1995).
Track 7 is from "Fucking Fullmoon Foundation" album (2002).
Track 8 (originally titled "Rising of the Cold Killer") from "Saturn Sector" album (2001).
Track 9: Laibach cover is musically based on their "Preludium" part from "Macbeth" album (1990) while lyrics were taken from their "Ende" song from "WAT" album (2003).

The booklet also lists the tracks:
10. Enigma (Live)
11. Das gottlose Lied (Live)
12. Die schwarzen Cherubinen (Live)
They are missing on CD because of the mistake of the press factory.